Newest CD voted "Best Instrumental Recording of 2013″
by the Indie Acoustic Project!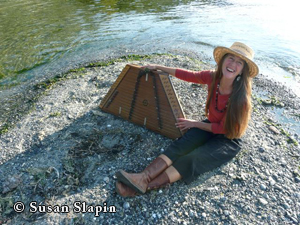 Carolyn Cruso is an acclaimed multi-instrumentalist and composer. She has toured widely in both the United States and Europe, as well as producing eight CDs during that time. She is equally at home on hammered dulcimer, flute, guitar and vocals and performs a diverse array of original tunes and songs as well as traditional material. Her instrumental compositions are mainly for the hammered dulcimer and are inspired by her strong connection to nature as well as her extensive travel and the cultures she's encountered along the way. Her unusual and lyrical approach to the dulcimer especially delights audiences and has even won over curmudgeons who swore they hated hammered dulcimer!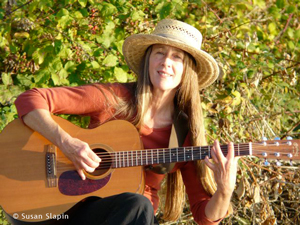 Most of her traditional material has been gleaned from her two and a half year sojourn in Europe with late partner Robert Almblade, whom she performed and wrote with for over a decade, as well as playing at Irish sessions around the United States. The material is largely Celtic and her involvement with that genre colors her original work.
As a relative newcomer to the performing songwriting genre, Cruso has been surprising fans around the country with the fact that she is a poetic lyricist, a powerfully expressive singer and a strong guitar player. Her lyrics explore love, loss and redemption and convey a compelling sense of longing. She regularly uses open tunings which allow her to find rich voicings to the chords she uses.
Carolyn Cruso has been performing professionally in both the United States and Europe for two decades as a multi- instrumentalist playing hammered dulcimer, various flutes, guitar and vocals. She celebrates the release of her latest instrumental recording, Migrations – A Retrospective (1989-1995), which draws from four early albums she made with the late great Robert Almblade.  Migrations was chosen Best Instrumental CD of 2013 by the Indie Acoustic Project. Carolyn's performances have been called powerful and emotionally provocative. Her lyrics are thoughtful, poetic and possess a compelling sense of longing. Her vocals are tough and tender. Her guitar chordings have been described as delicious and her playing is dynamic and expressive.
Carolyn has shared the stage with many fellow musicians including: Susan Osborn, Brenda Hunter, Joanne Rand, Banshee in the Kitchen, Randal Bays, Stanley Greenthal, Mare Wakefield, Larry Murante, Martin Lund, Eric Apoe and Jim Page.  She's opened for Pierce Pettis, Peter Case, Peter Mayer and Dawn Clement.
Carolyn teaches privately and in workshops settings, both at her private studio on Orcas Island and at the Dusty Strings Music School. She offers lessons in hammered dulcimer, flute, guitar, ukulele and songwriting. Carolyn offers both in-person (currently outdoors, and masked if needed or desired) and remote lessons via Zoom.
Join Email List for news, performances and new recordings.